Team Jenny is raising money through IGive! It's really easy and does not cost you anything.
Sign up with iGive using the link above.
Anytime you shop or search through iGive, money goes to Team Jenny!!
BUY A SHIRT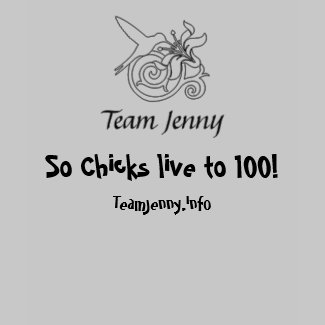 Team Jenny shirt to support the cause
by Team Jenny
$2 from each shirt goes to Team Jenny.
You can choose any style or color.
Go to Likewise Kids Eshop and buy something!


To DONATE, simply click on the TEAM page on the left and choose a Team Jenny team member to contribute to, or click the Great Strides logo above. We thank you so much for your support!!




Each year, Team Jenny walks in the Great Strides Event to help raise money for Cystic Fibrosis. All of this is done to honor the memory of our friend, sister, and daughter - Jenny. We walk to find a cure.
PLEASE HELP TEAM JENNY MEET IT'S GOAL OF $15,000 THIS YEAR FOR THE CYSTIC FIBROSIS FOUNDATION. Every $1 helps! Thank you!!!
Keep in mind this team was started in memory of a wonderful person who we all dearly loved.
Please help us in honoring that memory and helping to find a cure. You can help! Every $1 donation helps!
GREAT STRIDES is the Cystic Fibrosis Foundation's largest and most successful national fund-raising event. Your generous gift will be used efficiently and effectively, as more than $.90 out of every dollar you contribute will be used to fund the vital programs of the CF Foundation.
We all wish Jenny were still here with us and miss her greatly every day. So, to honor her memory, we continue with Team Jenny to do whatever we can to keep her spirit alive and work towards finding a cure for Cystic Fibrosis. Please help us by joining in this mi
ssion to save lives and honor our Jenny.
RIP April 30, 1977 - September 29, 2006